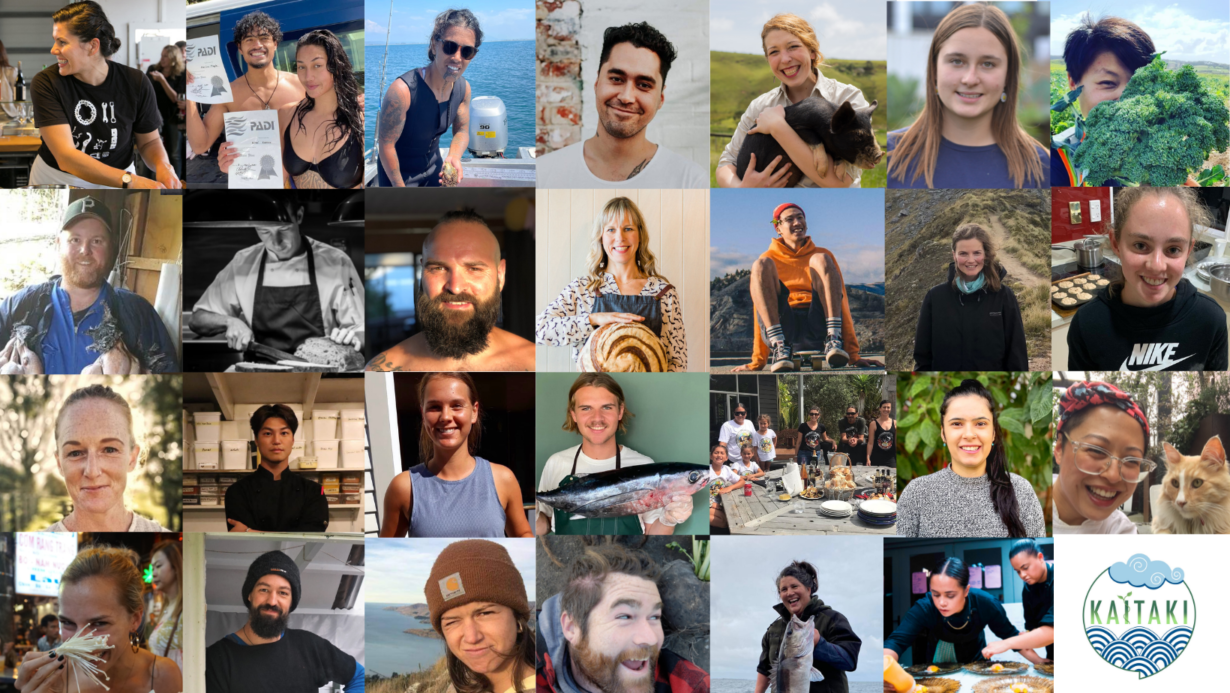 It is with great pleasure that we introduce our Eat New Zealand Kaitaki Collective for 2021. This 30 strong group of next-generation food story-tellers have been chosen from across Aotearoa and each represent a different aspect of our food system.
We are super grateful to have the support of our major sponsor Our Land and Water National Science Challenge as well as support from AgResearch. Over the next 12 months these individuals will be helping tell our food stories through a variety of platforms.
This cohort is led by Kate Underwood, a Kaitaki herself, she is a freelance food writer/communicator (@relishthememory) from Te Puke, who is now based in Ōtautahi and works alongside Angela as our Eat New Zealand Communications Specialist.
We can't to see what this incredible crew bring to the table. From the South...
Southland / Ruapuke Island
Daniel Tarrant - Beekeeper / Hunter
Daniel (Waitaha, Kāti Māmoe and Ngāi Tahu) is a bee-keeper, sheep-farmer and hunter based on Ruapuke Island in Southland. He's deeply passionate about hunting, gathering and fishing and as next generation on the whānau owned Ruapuke Island he feels a strong connection to protecting this special place. As a producer of 'The Worlds Southern Most Mānuka Honey' from hive to spoon, he loves sharing the Ruapuke Honey and process of establishing hives on the Island. Daniel loves to kōrero, sharing and teaching others how to source and provide for their own whānau. @ruapuke.uncut
Invercargill
Ethan Flack - Chef
Ethan is a chef, born and bred in Southland and has recently returned to Invercargill after spending ten years in the UK. He completed his cooking apprentice in Queenstown and went abroad to gain experience, completing stages with globally renowned chefs including Dan Barber in New York and Christian Puglisi in Copenhagen. After spending time away from this place, he's developed a new appreciation for Southland and believes in the produce, community and potential of the region. He's on a pursuit to create a food space, with no restraint on hours or menus where he can work with what's available, ready, ripe and in season. @ethan____flack
Wānaka
Lucas Parkinson - Chef
Lucas is the chef and owner of Ode in Wānaka, established in 2017, where they serve 98% organic and biodynamic New Zealand produce along with New Zealand wine. He's a hardcore organic enthusiast and long time advocate for sustainability and ethical practices in New Zealand. He speaks openly and honestly about his own experiences and challenges within the hospitality industry, including a devastating fire that forced him to close the restaurant for a short period in 2019. Having just sold Ode, he's looking forward to spending more time with his family and deciding where he will take his next move. @luc_soul
Christchurch / Ōtautahi
Olivia Sisson - Writer / Fungi Forager
Liv is a full-time writer and prolific fungi forager, based in Christchurch, but is originally from The Shenandoah Mountains in Virginia USA. She loves fungi, foraging and urban-gardening and feels fired up about how epic New Zealand food is and is looking forward to having the opportunity to shine a light on the people behind our food. As a copywriter by day she works across many digital content platforms and is pumped to be able to help tell genuine and engaging food stories. @liv_mosss
Dylan Parker - Farmer / Gardener
Dylan is a farmer, gardener and seed saver who has been involved in local food in Christchurch since 2014. He's currently 2IC at Cultivate Christchurch and runs Crooked Roots, a slow cropping and seed saving project with friends at the Biological Husbandry Unit at Lincoln University. He's on the committee for his local community garden and is the lead farmer on a new project in the Redzone in Ōtautahi - an educational hub to help connect and empower local people to engage with the land and strengthen their food security. @farmerdillo
Izzie Thompson - Eater / Poet
Izzie is an enthusiastic eater, pickler, forager, poet and works full time in architecture. She spends her days dreaming of vegetables and gets ultimate satisfaction through combining flavours in traditional and new ways, and consuming said creations with a multitude of homemade pickles, garnishes and herbs. She loves sharing the meal with others, physically or through her fledgling foodstagram. She has contributed food content to Wilderness.co.nz and is driven to share how we can help ourselves by helping local producers. @lookizziefood
Jackson Mehlhopt - Chef
Jackson is Head Chef at Gin Gin in Christchurch, a small gin bar on New Regent St in the CBD. Being homeschooled, he spent his childhood growing vegetables, raising chickens, spending time on his Uncle's dairy farm in Farlie and of course, cooking. He recognises that cooking is community, the congregation of relentless hours of hard work from extremely passionate people. He's passionate about minimising waste in the kitchen through fermentation, and is currently running a bread miso program to try and use all of the leftover pizza dough from the night before to turn it into a usable, delicious product. @jacksonjame
Aliesha McGilligan - Baker / Chef
Aliesha (Ngāti Porou) is a chef, professional baker and Ōtautahi hospitality hero. She currently works at thriving artisan bakery, Bellbird Bakery and has been a big time supporter of Eat New Zealand since its' inception. She spent most of her culinary career in restaurants, as well as running a café, a woodfired pizza project and an ice cream venture. Post-quake her cooking has become focused on health, community and sustainability and this journey has led her to believe that connectivity between people and food creates health and wealth for the individual, the community and the earth. She's a deeply connected and conscious creator and consumer of kai, who has always hero'ed farmers markets, and loves fermenting and growing her own food. @gastrono.mc
Nelson / Awaroa
Zane Hirini Heemi - Chef
Zane (Nga Puhi, Te Arawa) is a chef with 17 years experience, having worked all over the world including Australia, Japan and Europe. He's recently moved back to begin a head chef role in Awaroa for the upcoming 2021 season. Zane is passionate about pre European Māori food, tikanga around food and harvesting, cooking food over fire and sustainability. He wants to focus on growing his knowledge of māori cooking techniques, and 'pest eating' - or as he explains it, eating ourselves out of the problems we have in our food systems. He is also a writer and has contributed to various hospitality based publications. @zaneheemi
Nelson
Tim Barnett - Spear Fisherman
Tim is a commercial free diver, spearo, and passionate outdoorsman. He has woven his love of the outdoors and the underwater world with the need to provide an income for his family. Leading him into television work and ultimately the formation of Ocean Speared. He's relishing the connection with who is eating and cooking his fish, including some of the country's best chefs. He believes there is the opportunity to change the way we harvest fish from our waters, ensuring no bycatch. #KnowYourFisher @oceanspeared @timbarnett_hunting
Wellington / Te Whānganui-a-tara
Katie Mahn - Population Health Dietitian
Katie is a New Zealand Canadian and a Population Health Dietitian with a passion for helping people and whānau to lead healthier, happier lives by improving their health and relationship with food. She is currently working on a project in high schools starting up māra - traditional Māori gardens. She's also passionate about food waste and has volunteered for food charities such as Kaibosh, Common Unity Aotearoa and Everybody Eats and loves gardening, foraging hiking and cooking. @ktmahn
JaeHoon Eon - Chef
Hoon is from South Korea and is the head chef of Havana Bar and Restaurant in Wellington, he's also the founder of Bibim - a Wellington pop up restaurant that showcases Korean cuisine using seasonal New Zealand ingredients. Having worked at a number of Michelin starred restaurants throughout Korea, a few years ago he moved to New Zealand and fell in love with our fresh produce and unique ingredients. He's on a mission to create sustainable food and innovative cuisine, he's also just been nominated as an 'Emerging Chef' in the Felix Wellington Hospitality Awards 2021. @chef_hoon64
Vicki Young - Pastry Chef / Chef
Vicki is a trained pastry chef, dessert wizard and hospitality all rounder. Growing up as a New Zealand Chinese with a market gardening family, hospitality and food runs in her blood and she's always had a deep appreciation for produce and the people behind it. She works as a private chef and owns a small bespoke cake business called 'Vicki Eats' alongside pop-up dessert degustation events. Vicki has just taken over the role as Restaurant Manager at the Everybody Eats site in Wellington a community restaurant based on a koha pay-as-you-feel model, that aims to reduce food waste, food poverty and social isolation. @vickieats
Lydia Thomsen - Nutritionist / Soil Advocate
Lydia is a nutritionist, soil advocate, health promoter and communicator, farmer and Bokashi/compost enthusiast. She works part-time as an educator and farmer for the Common Unity Project Aotearoa working on an Urban Kai Farms project called 'Agrihood'. She has a BSc in Human Nutrition, and a Postgraduate Diploma in Public Health. Her journey of understanding soil health and regeneration is ignited by her family farm in the Hawkes Bay, and she's on a mission to become a soil storyteller and wants to help inspire others to regenerate soil to grow/produce nutrient dense food and promote appropriate food waste systems. @agreeablegrub
Arthur Hon Sheng - Photographer / Chef
Arthur is a photographer, videographer and visual storyteller as well as an experimental chef. Born in Penang, Malaysia, he moved to NZ when we was 16 and has recently graduated from Otago University majoring in Food Science where he was heavily involved in volunteering. He is currently working at The Food Lab, a premium catering and production company and his experience of two different cultures has made him a more open minded and creative chef. He believes humans are social species and that we grow and learn as a collective and he's looking forward to being a part of something that evolves the story of food in Aotearoa. @therunninbanana
Wairarapa
Jannine Rickards - Winemaker / Wild Food
Jannine Rickards (Ngā puhi & Ngā te Rangi) is a winemaker who has her own label, Huntress Wines. As the name suggests she is also a wild food wāhine, who comitted to full utilistaion of the animals she hunts. She's based in the Wairarapa with her partner Mick where they're creating a permaculture property. Jannine is on a journey to reconnect with her whakapapa, learning more te reo and tikanga as she goes. @janninerickards @huntress_wines
Palmerston North / Manawatu
Mrinali Kumar - Food Technologist
Milli is a food technologist and entrepreneur who is currently studying her Masters in Food Technology in Palmerston North. She's working on a plant based Food Start Up called Kinda! (a result of a Start Up Weekend in Taranaki). Kinda, is on a mission to create plant based food in a more sustainable way, that looks after our land, our people and our animals. Their first unique product is a plant based ice cream made using cauliflower. As a food technologist she's been involved with product development, market research, processing and commercialisation and is well connected within the industry. Milli is passionate about driving sustainable innovation for New Zealand's food sector, with health and well being as a core focus. @eatkinda @milli.kumar
Gisborne / Tairāwhiti
Hamiora Gibson - Bushman / Educator
Hamiora is a bushman, an educator, trapper, hunter, forager, botanist and fisherman. As a kaitiaki of our ecosystems he has a strong passion for our traditional mahinga kai species. He currently manages the Eastern Whio Link Conservation Project in the Upper Waioeka, working to help inspire and raise the next generation of kaitiaki. He has appeared on Māori TV and at various events and contributes to NZ Outdoor, he also speaks at conferences, schools, does bush tours and has a crew of rangatahi behind him. As a bushman Hamiora understands the management of both native or introduced food resources and what it looks like to sustainably harvest and is deeply driven to share this knowledge with future generations. @sam_the_trap_man
Kawerau
Davina, Marino & Whaitiri - Wild Food / Food Truck
Davina has a whānau run business called Wharekai Cafe, and has just purchased a food trailer called Kai-Tiaki. She was born and raised gathering, diving, foraging and growing kai. Her son Marino is a passionate diver, hunter and gatherer, who is currently completing his Bachelor of Environmental Science in Marine studies. His partner, Whaitiri is also an avid gatherer of kai (and a better diver than Marino!) she is a qualified barista and they all help within the kai businesses. Their vision is to travel around Aotearoa doing events and markets and connecting to people through kai and koha kawhe. They live by the Maramataka Māori, the Māori Lunar calendar for Kai on land and sea. @wharekai
Rotorua
Jessica Lamb - Student / Environmentalist
Jess is a Year 13 student in Rotorua, she's passionate about changing people's perspectives around plant based eating both for the health of humans and our planet. She feel's strongly about sustainability; reducing single use plastic, composting, and helping her sister (Kaitlyn, one of our 2020 Kaitaki) in the garden to grow food. She's a keen runner and loves anything to do with conservation. Next year she's planning to study Environmental Science at the University of Canterbury. @eco_runawayjess
Pāpāmoa
Gemma Fitzpatrick - Food Communicator
Gemma is a food writer and photographer and is the marketing manager for Service Foods, one of NZ's largest food distrbutors. She is super passionate about creating content and telling stories for food-related businesses. She lives to eat and during the weekend you'll often find her creating recipes or baking for Good Bitches Baking, she's has also just signed up to a Masters in Gastronomy to help find her food writing voice. @sustenance.co
Māketu
Kārena Bird - Chef / Māori Food Storyteller
Kārena (Te Arawa) is a well-known New Zealand chef and storyteller, who specialises in creating unique Māori food experiences. Since she and her sister won Masterchef NZ in 2014, she's co-hosted two seasons of the TV show 'Karena and Kasey's Kitchen Diplomacy, and self-published two award-winning cookbooks including: For the Love Of, and, Hungry. Her mahi within the culinary food scene has included international work with NZTE and cooking appearances aross Aotearoa. In 2018 Kasey & Kārena did a series of pop up events called 'The Creation Dinner' where they shared kōrero about Atua Māori alongside a degustation dinner. Having recently undertaken a fulltime Te Reo Māori course she is currently writing their third cookbook which will be entirely written in Te reo Māori. @karenakasey
Tauranga
Tegan McGowan - Food Systems / Nutritionist
Tegan is an Associate Registered Nutritionist, was the co-founder of Toha Kai and has just moved to Tauranga to start a Health Improvement Advisor role for Toi Te Ora Public Health. Toha Kai is a non-government organization advocating food security, it was grown out of the Roimata Commons Community Garden in Christchurch and the urgent need for more resilient food systems - they work with local food producers to purchase and redistribute excess food to provide accessible and affordable kai boxes as we all cooking classes in Woolston. In her new role, she works in Food Systems Change which involves strengthening healthy food and drink policy, food security, working to support those building stronger food communities such as Kai Rotorua and supporting Ka Ora, Ka Ako - the healthy schools lunch programme. @tohakaiotautahi @teganoliviamcgowan
Raglan
Hannah O'Brien - Honey Producer
Hannah and her husband Rory, run an ethical, sustainable beekeeping business called Hunt and Gather Bee Co. They have expert knowledge in apiculture and produce a range of NZ forest honeys, predominantly Kānuka and Rewarewa. Their business is based around environmental values including regeneration, sustainable packaging and pest control. Hannah and Rory left their jobs as a teacher and dairy farmer, before starting their company, and as proud food producers, they fly the flag high for sustainable, small New Zealand businesses. @huntandgatherbeeco
Auckland / Tāmaki Makaurau
Wendy Zhou - Food Waste Entrepreneur
Wendy is a data-savvy entrepreneur and the founder of Perfectly Imperfect - A Charitable Trust launched in March 2020, which stands behind the belief that 'ugly is the new tasty'. It tackles the issue of pre-harvest food loss by gathering produce that would otherwise go to waste and redistributing it to those in need. They received the Community Collaboration award at the Tāmaki Makaurau 2021 Zero Waste Awards by Auckland Council and Eco Matters. She has a dynamic cultural background, was born in China, and grew up in a well-known Auckland dumpling restaurant and believes 'love food hate waste' is in her blood. She's worked in well known startups, various financial sectors, global supply chains and has a background in statistics. @perfectlyimperfectsnz
Isabel Pasch - Baker / Microbiologist
Isabel owns Bread and Butter Bakery in Auckland - a bakery that began focusing on organic sourdough production 11 years ago. She has a Master of Science in Microbiology, where she studied the microbiome involved in gut fermentation, and did a further degree in science communication. She chose a more practical approach to communicate this knowledge via good food and also has a blog called breadpolitics.com. Isabel immigrated to New Zealand from Germany and cares deeply about food, the environmental impacts of what we choose to grow and the impact of that food on people's physical and mental wellbeing. She's also heavily involved in the #EatNZGrains movement. @breadandbutter.nz
Hannah Beth Miller Childs - Butcher / Charcutier
Hannah is one of New Zealand's top butchers, and owner of 'A Lady Butcher' - a line of quality New Zealand charcuterie. Originally from Portland, Oregon, she studied as a chef at The Culinary Institute of America in New York, and it was the idea of whole animal utilization that got her into butchery. She moved to London to start her butchery apprenticeship and after 10 years and several continents, she saw that New Zealand had a major butcher shortage, so applied for a working holiday visa and started her career in Aotearoa. She's also a strong advocate for actively hiring, mentoring and training woman in the traditional trades of butchery and charcuterie. @aladybutcher
Holly Bagwell - Environmental & Wellness Advocate
Holly is a Year 12 student at Long Bay College in Auckland, she's passionate about creating a positive impact on the well-being of people and the planet. When she was 14 she went to a talk about the microbial link between sourdough, the soil and the gut, run by For the Love of Bees and after hearing about regenerative gardening, she started a regenerative garden at her school. In the school holidays she works at the Sir Peter Blake Marine Education and Recreation Centre (MERC) teaching kids about marine conservation through outdoor education. She is a yoga teacher, who loves to speak and write and she is currently looking into the cultivation and carbon cycle through the story of Rongo-ma-tāne the Atua (god) of food. @holly.guacam0le
Teri Styles - Dietitian / Food Advocacy
Teri is a Registered Dietitian involved in food advocacy. In her current role at the Auckland City Mission Food Bank, she works with whānau coming through the mission to access food and provide extra support when possible. She brings with her the voice of the vulnerable, knowledge of nutrition and food systems, along with compassion and experience in both clinical and social services. @teristyles @aucklandcitymission
Dargaville
Peita Family - Artisan Producer
Dom (The Sauceress) and her whānau are the souls behind Wild West Worcester, an artisan producer of award winning sauces and relishes, handmade in Dargaville. Each limited edition batch is a labour of love and is aged to perfection! WWW is a full family affair, using Nana Katie's (Dom's Mum's) well-refined recipes, her and Dom handle the cooking and bottling, then the rest of the whānau label and package each bottle by hand. Papa Kevin built the custom kitchen and Dom's Husband Henry (The Saucerer) and their four children Riaz (13yrs), Zion (9yrs), Poppy (7yrs), Billie (5yrs) showcase their handmade products at the markets and through their online presence. @wildwestworcester